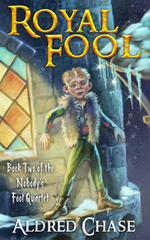 Royal Fool, book two of the Nobody's Fool Quartet, is due to be available as an ebook through Kindle and Smashwords in the next week or so.
Am I resting on my laurels. I did try but they have left a squishy green stain on my chair. I'm assuming the stain is from my laurels and not a present from my cat.
Anyway after launching book two and finding some stain remover for the chair, my next task will be editing Prince of Fools, book three of the Nobody's Fool Quartet.