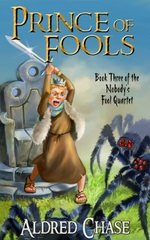 Prince of Fools, book three of the Nobody's Fool Quartet, is due to be available as an ebook through Kindle and Smashwords in the next week or so.
The excitement here in the Chase household is so intense that Blenkinsop the cat has fallen asleep under my desk. He may simply be exhausted from the previous excitement of having Apprentice Fool, book one of the Nobody's Fool Quartet, become available for free.
Apprentice Fool has featured near the top of a number of the free-book lists in its categories at Amazon, resulting in my dancing an improvised victory dance, which witnesses and a passing anthropologist say combines the Cha Cha with an Apache war dance.