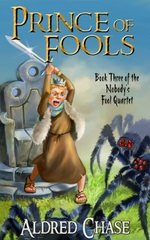 Prince of Fools, book three of the Nobody's Fool Quartet is now available on Smashwords and Kindle.
If you are new to this series, book one, 'Apprentice Fool', is available free to get you started.
I'm busy editing book four and I've had some terrific ideas for books five, six and seven. My dictionary is quite strict on a quartet being four of something rather than four and a few extra. Still, it's better to have too many ideas than none at all.
Buy the eBook: