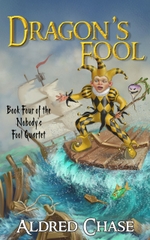 Dragon's Fool, book four and the final, gripping installment of the Nobody's Fool Quartet, will be available as an ebook through Kindle and Smashwords before Christmas.
People ask me: what is the most exciting part of publishing a book? I'd like to say it is watching the royalties roll in and lying on a dragon sized horde of gold coins thinking 'this is really cold and uncomfortable, tomorrow morning I'm buying a mattress.' Actually, I'd settle for a Blenkinsop the cat sized horde of coins, but I can dream.
For me, one of the most exciting steps in publishing is receiving the final cover design. I think www.ebooklaunch.com has done an amazing job with the covers and the cover for Dragon's Fool is outstanding.