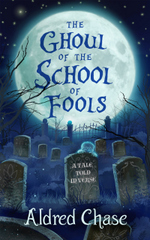 I'm putting the finishing touches to my latest work: The Ghoul of the School of Fools, a tale told in verse.
I've been busy making sure that everything rhymes where it should and has the kind of rhythm that lets you proclaim the verse loudly in public places such as on the bus. Please feel free to try it and report back to me with the results.  I've even been working on my grammar and punctuation; who knew that poetry required it just as much prose?
Once again, Dane from ebooklaunch has provided me with an amazing cover.