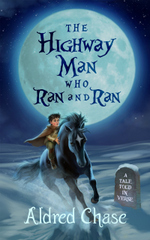 I'm putting the finishing touches to my latest work: The Highwayman Who Ran and Ran, a tale told in verse. It's a rip-roaring adventure told in rollicking rhyme.
The final stage is the copyedit when a fine toothcomb is drawn through the text and all the nits, flees, and excess commas are removed. Those commas are not homeless for long but placed where they needed to be in the first place. It's all heartwarming stuff.
Once again, Dane from ebooklaunch has provided me with an amazing cover.