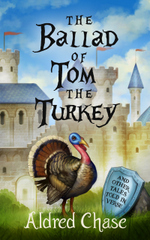 I'm putting the finishing touches to my latest work: The Ballad of Tom the Turkey, and other tales told in verse. This is a collection of funny and action-packed adventures told in rollicking rhyme.
This is the first time I've published a collection of stories rather than a single story. The locations range from medieval castles to funfairs and the seaside and on to sinister museums. It sounds a bit like my last holiday, and I hope it's just as exciting.
Once again, Dane from ebooklaunch has provided me with an amazing cover. Tom has to be the most charismatic turkey, I've ever seen.