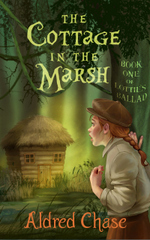 I'm putting the finishing touches to my latest work: The Cottage in the Marsh, book one of Lottie's Ballad. It's a gripping adventure told in rollicking rhyme.
I've reached the stage where I have to write an enticing blurb to lure the potential reader into exploring further. Sometimes, this part can feel as challenging as writing the book.
Fortunately, Dane from ebooklaunch has provided me with an amazing cover, which I think readers will find irresistible.