Lurker – Sinister Sydney, Book Two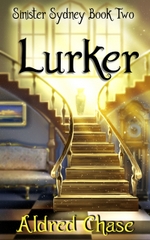 Fifteen year old Paul Blake is learning about the supernatural world from his dying grandmother. Battle lines are drawn between student and teacher when, contrary to her instructions, he chooses to help his friend, Charlie, who has been changed by supernatural forces. His quest to save Charlie takes him on a terrifying adventure, where he discovers that there are things even more frightening than being on the wrong side of his grandmother. Evil things from Sydney's cruel past are lurking in the shadows, and Paul is their chance to poison the present.
Lurker is the second book in the Sinister Sydney Series: stories where the supernatural pierces the thin skin of modern life in Sydney.
Lurker is available as an ebook, exclusively at Amazon.